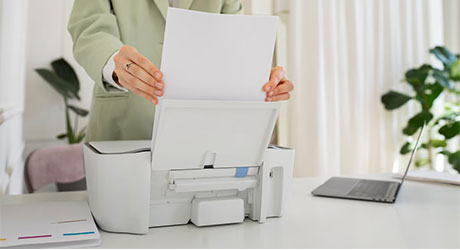 Are you looking for a way to streamline your office equipment expenses? Leasing your printers and photocopiers might be the solution you've been searching for. At OfficeTech, we offer both new and refurbished equipment leasing options to fit any budget. Here are just a few of the ways leasing can benefit your business:
Cost Savings: Leasing allows you to acquire high-quality office equipment without making a significant upfront investment. This frees up your capital for other areas of your business that need it more.
Predictable Expenses: With leasing, you know exactly what your monthly expenses will be. There are no unexpected repair or replacement costs to worry about.
>Maintenance and Support: Our leasing agreements include ongoing maintenance and support. This means we handle repairs, replacements, and upgrades as needed.
Access to the Latest Technology: Leasing allows you to upgrade your equipment more frequently, giving you access to the latest technology without having to buy new equipment every time.
Tax Benefits: Leasing can also provide tax benefits, as the cost of the lease is a deductible business expense.
At OfficeTech, we understand that every business has unique needs. That's why we offer flexible leasing options that can be customized to fit your specific requirements. Whether you need a single printer or a fleet of photocopiers, we have a leasing plan that will work for you.
Contact us today to learn more about our leasing options and how we can help you streamline your office equipment expenses.